Turbine Hall for a Month to a Random Person
Because you can talk about art and democracy all you want until you actually have to do it
The Tate Modern sits on the south bank of the river Thames in the heart of London opposite St Paul's. It is a large building. Most days it is filled with large amounts of expensive art, tourists and Londoners with children cowering from the rain. As a power plant, it used to provide London, the city of industry and finance, with electricity and coal emissions until it went into disuse. That was until 2000 when it was finally made to what it is today – an art museum. It is a symbol of the power of a London that branded itself as post-industrial and had money to blow on stuff like this. London, the capital of the country that had founded the Industrial Age, chucked it in the bin and now needed to power the intellectual age and service economy with ideas and that.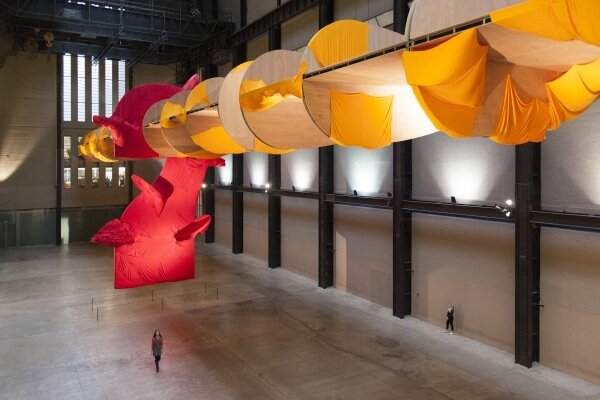 It would be an inclusive time, an age where all of Britain's rabble would meet the intelligentsia on the south bank of the river, their hands no longer soiled and their clothes no longer stained, and be able to appreciate art together at last. Or something like that. Now the artist's hands are stained, with paint, grease and glue as they fabricate and construct the objects we view and ponder on in that former power plant. But they are singular and the rest are many and it's no damn fair. It's supposed to not be that way. Art, not just looking at it, is supposed to be for everyone.
What I propose is a great levelling, truly bringing art to the people by giving the people the grand, cavernous expanse that is the Turbine Hall each for a year. The everyman art heroes will be chosen by lottery, the method that pays for all of it anyhow. And that chosen person, will become the artist, the owner of Turbine Hall, to install just whatever the hell it is they want to put in there with the help of the museum.
* * *
Giles Farnsworth looks at down from the west entrance to the new installation. It is massive. The installation always is and almost always has to be in that big of a space. It would be a positive tragedy to not use the area to its full potential. You could fit an airliner in there. He looks from the entrance down the polished, concrete slope and thinks through what he is seeing: a massive upright human hand, all fingers curled in save the middle finger and on the back of the hand, facing him, a Millwall Football Club logo. He is puzzled.
Bob Newsome is not puzzled. He thought of it. He's Millwall born and bred – a supporter from cradle to grave. He won the lottery after putting his name on a card and proving his residency and sure enough some guy named Johnny or something contacted him. He went to a bunch of chats, "workshops" they kept on calling them, despite no work being done or it not being in a shop, and they helped him with his idea. There was lots of post-it notes everywhere. They had five of them people running about moving the post-it notes as he said things. This went on for at least two weeks.
Johnny was not a football fan. What he was, was a very lowly paid "engagement officer" which meant that his newly minted Master of Arts was only semi-pointless as he had to talk to people who came to the museum who did not have arts degrees. Bob was adamant, it needed to be Millwall. He was Millwall he would insist. Millwall was London he would go on and on. They supported his vision, they had to, it was democracy. It was London.